For God so loved the world that he gave His one and only son that whosoever believes in Him shall not perish but have eternal life. John 3:16
Dishpan
Run 2017
All evets subject to change without notice
Trail:
Dishpan Springs


http://www.dirtopia.com/wiki/Dishpan_Springs_Trail
Meeting Place:
30740 Hook Creek Rd, California
(click the link or plug this into Google and it will come up)


9:00am


We will be on CB channel 3. Cell coverage is spotty there so no promises.

Minimum Required Equipment: 4x4, tow strap, 33+" tires, 1 traction aid, first aid kit, fire extinguisher, front and rear tow points, tool kit, drinking water, etc. Please email info@sonsofthunder4x4.com with any questions.

Notes: This trail is rated as "Most Difficult".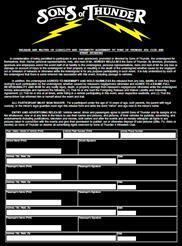 Waiver to be Filled Out for EACH Run